Information for Prospective GPs & Registrars
Dear Prospective GPs and Registrars,
Please see our BLOG for snapshots of a vibrant work environment.
I would like to set out why I think you would like to work with us.
At Greenmeadows Medical we have achieved the elusive balance of providing a quality service that makes patients want to come back and an environment that makes staff and doctors want to come to work.
We are leaders in our field.
We pride ourselves in having an innovative practice and aim to be the leading provider of integrated GP services in Port Macquarie. We recognised the benefit of working off-site, hence the installation of remote access to your workstation for clinical and study purposes. In addition all consulting rooms have a camera for tele-health consultations.
We constantly evaluate and improve.
Regular Quarterly whole-practice review and planning meetings
Tri-annual policy manual reviews
Annual updates to  our five year business plan
Current/new patient surveys
Significant investment in staff education/training
External reviews of performance
A variety of clinical audit tools enable us to analyse our patient data to identify target areas for management of care, for setting clinical goals and monitoring progress.
We enjoy excellent facilities.
Greenmeadows Health Centre is a highly visible, easily accessible, centrally located facility with a modern, attractive and efficient design.
Port Macquarie is a delightful lifestyle-friendly small city with an almost non-existent rush hour. Our central location and proximity to schools and day care is another time saver and stress reliever. And remote access work mailboxes will certainly make your life much easier.
We are a friendly practice with a well-integrated team.
We see our work as a source of great professional satisfaction and personal enjoyment and several of our registrars have enjoyed their time here so much that they have returned to us after rotation.
Your further education will not be neglected.
We invest over $10,000 in staff training and development per year so you can be confident our staff are up to date in their area. You will have direct access to pharmacy advice.
Our Education Room is a purpose-built facility which is used for presentations and meetings. We have one educational event per week and monthly specialist service presentations and a variety of pharmaceutical and allied health presentations.
You will have the opportunity to teach.
With twenty-five medical students a year coming to us from UNSW, UNE and Newcastle University, interested registrars can provide some of the student tuition if they wish.
Remuneration is excellent.
The take home pay for Associate GPs and registrars who work here is excellent, making working here an attractive proposition.  Associates receive an average of 70% of the Medicare rebate value.
Registrars are fully booked due to the high demand for the service.
We welcome your interest and assure you that all enquiries will be kept in the strictest confidence. Although the final decision for registrars is made by TMS, the preferences of registrars and training practices are taken into account.
Dr Robert Clarke
30th July 2023
MBBS FRACGP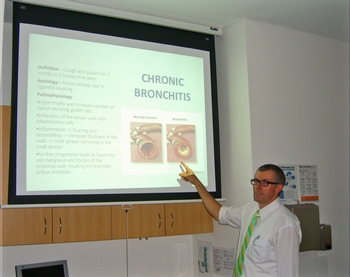 Fax (02) 5525 1112
152 Greenmeadows Drive
Port Macquarie NSW 2444
Open: Monday – Friday
7:30 am – 6:00pm

Saturday 8:00 – 1:00pm
Sunday & Public Holidays – Closed